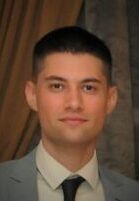 Milan Marković is a Ph.D. in Economics. From 2014 to 2019 he was engaged in the project "Improving the Competitiveness of the Public and Private Sector by Networking Competences in the Process of European Integration of Serbia", funded by the Ministry of Education, Science and Technological Development of the Republic of Serbia. Within the project, he managed the project task "Competitiveness of the agri-food sector of the Republic of Serbia".
He is a member of many scientific societies, editorial boards and scientific committees.
Milan Marković is a reviewer of papers in the Journal "Ekonomika", "Economics of Sustainable Develpment" and international thematic monograph "Modern management tools and economy of tourism sector in present era" published by the Association of Economists and Managers of the Balkans. He has published a monograph of national importance and 40 scientific papers, half of them in publications of the category M13, M14, M23 and M24 in the field of agricultural economics, national economics, and international finance.
7th International Scientific Conference on IT, Tourism, Economics, Management and Agriculture
October 26, 2023
Organized in hybrid form: online, virtually and in-person at the Faculty of Organization and Informatics, Varaždin, Croatia